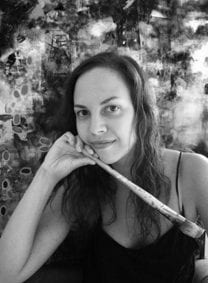 For Alexandra, painting is an outlet to express emotions that can't be articulated in words. Born into a family of artists, Alexandra has been exposed to art her whole life, learning from her mother and grandparents. Alexandra treats the artistic process as a form of therapy and healing, transforming dark moments into beautiful images, exploring her emotions through colour and movement.

Alexandra paints from a place of spontaneity. There's no plan, there are no objects or forms, just pure abstraction, filled with colour, symbolism and emotion. Alexandra finds her inspiration in all forms of art, ranging from film to magazine editorials. She credits the work of Patti Smith and Georgia O'Keeffe as her main visual influences.

Alexandra believes in the transformative power of art, both emotionally and mentally. As someone who has struggled with mental illness, she is a strong advocate for art as therapy and aims to inspire others dealing with their own hurdles in creative self-expression.

Alexandra has a M.A. in English Literature and Film Studies and a B.A. in Education from the University of Ottawa. She currently works a high school Art and English teacher.
Vendor:

Regular price

$700.00 CAD

Regular price

Sale price

$700.00 CAD

Unit price

per

Vendor:

Regular price

$500.00 CAD

Regular price

Sale price

$500.00 CAD

Unit price

per

Vendor:

Regular price

$400.00 CAD

Regular price

Sale price

$400.00 CAD

Unit price

per

Vendor:

Regular price

$500.00 CAD

Regular price

Sale price

$500.00 CAD

Unit price

per

Vendor:

Regular price

$450.00 CAD

Regular price

Sale price

$450.00 CAD

Unit price

per

Vendor:

Regular price

$400.00 CAD

Regular price

Sale price

$400.00 CAD

Unit price

per